The Wizard of Oz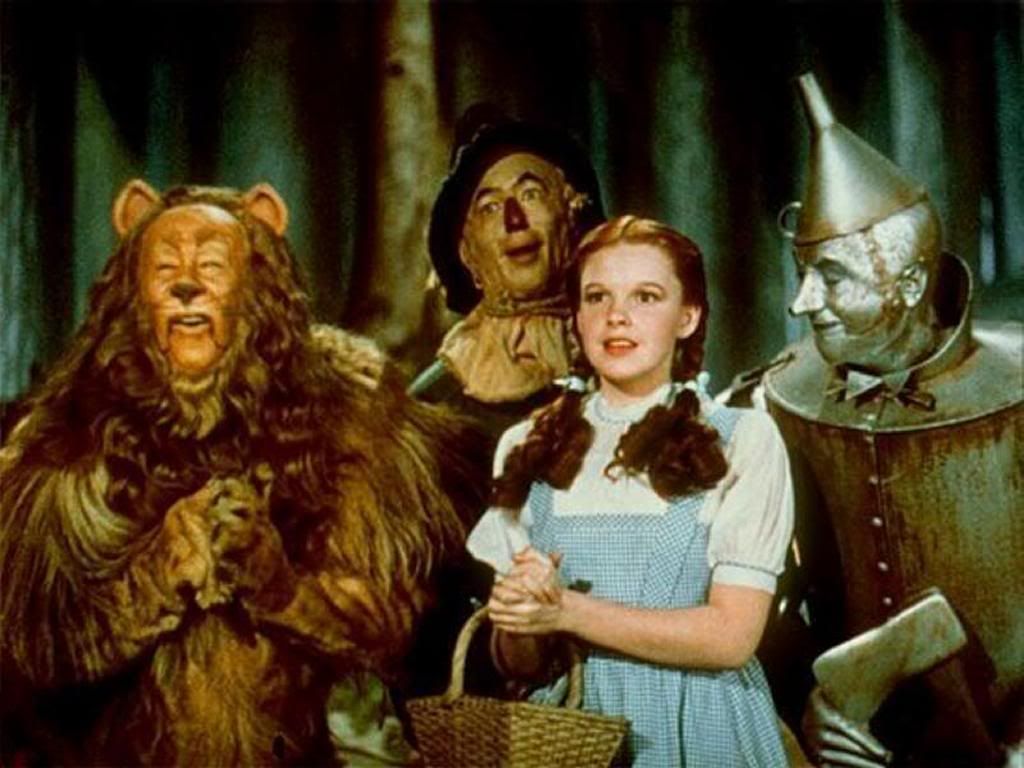 L. Frank Baum first published The Wonderful Wizard of Oz in 1900, and the success of that book led to several sequels. A number of adaptations of Baum's Oz stories for stage and screen appeared before MGM's classic movie was released in 1939.

Interestingly, this film was not regarded as a box-office success in the years following its initial release.

Its status as an American classic owes more to television, as The Wizard of Oz became an annual television event in the 1950s and 1960s. The universal quality of the story and the warmth of the film made it appealing to people of all ages.
Who would've thought that The Wizard of Oz contained hidden meanings?


Over the years The Wizard of Oz has been interpreted in a variety of ways. The most celebrated interpretation came from a high school history teacher in upstate New York named Henry Littlefield, who found that the imagery of Baum's story corresponded to the issues and figures in American politics at the end of the 19th century.

Littlefield found that he could use The Wizard of Oz to teach history to his students, as the story functioned well as an allegory to the Populist movement and the 1896 presidential election. In the years since Littlefield's article first appeared in American Quarterly in 1964, several analysts have weighed in with their own refinements to this interpretation. A number of people have disagreed with Littlefield's premise entirely, denying that Baum had any political intent at all, while others have suggested other political interpretations.
But perhaps The Wizard of Oz is about something else entirely. In the last decade a number of analysts have interpreted The Wizard of Oz as a spiritual journey. Dorothy's journey in Oz has been examined from Buddhist, "New Age", as well as Christian perspectives. These accounts emphasize Dorothy's quest and see it in theological or mythical terms. Where most of the political interpretations have been in the form of articles in scholarly journals or quick recaps in the popular press, these spiritual interpretations of The Wizard of Oz are book-length treatises.The imagery of The Wizard of Oz is so rich that the preceding discussion is only the beginning.
What is The Wizard of Oz Really About?


A number of writers in recent years have pointed to a spiritual message in The Wizard of Oz. The MGM film of The Wizard of Oz contains only one reference to religion. When Almira Gulch confronts Dorothy's aunt and uncle about Toto, Aunt Em tells Miss Gulch,

"I'd tell you what I think of you but I'm a Christian woman."

The spiritual interpretations have not been limited to Christianity, though. In several books published in the last couple of decades, L. Frank Baum's story has been interpreted as a Christian search for redemption, a Buddhist quest for enlightenment, a New Age spiritual pilgrimage, a secular myth, as well as a critique of organized religion in general.
The "Yellow Brick Road" as Spiritual Journey


Bausch uses this familiar story of Dorothy's trek along the yellow brick road to shed light on how people can successfully negotiate their own spiritual journeys. Despite the familiarity of life in Kansas, Dorothy wondered what life offered beyond the bounds of her experience-she wondered what was "over the rainbow." According to Bausch, this was Dorothy's holy discontent, and her call to action took the form of a tornado. He suggests that many of us experience similar feelings, but our call to adventure is often more subtle than Dorothy's.

Often, a person has to reach some sort of impasse in their life to spur them to begin their own spiritual journey. We must face the challenges of the spiritual journey, much like Dorothy confronted her own demons ("lions and tigers and bears, oh my!"). She soon realizes, however, that she can't take this on alone and she finds companions to accompany her on her journey. Bausch argues that we need a "faith-sharing community - people who think the spiritual life is real."
Interestingly, most of the spiritual interpretations of The Wizard of Oz do not take a Christian perspective. Joey Green suggests that The Wizard of Oz illustrates the Buddhist search for enlightenment in his book The Zen of Oz: Ten Spiritual Lessons from Over the Rainbow.

Glinda, the Good Witch of the North, is the Zen master who sends Dorothy on her journey down the yellow brick road toward enlightenment. Dorothy's search for self-discovery inspires others along the way, and they learn to leave their conscious yearning behind. Dorothy eventually achieves satori and finds oneness with the Universe, or as it is expressed in Baum's story, she finds her way home.

Green's ten spiritual lessons from The Wizard of Oz are his interpretation the major themes and events of the story, illustrating some aspect of Buddhist practice and belief. Dorothy's ruby slippers represent the "inner spark" we all possess. Glinda tells Dorothy never to let the ruby slippers off her feet, meaning that Dorothy should not let go of her passion for life and her potential for enlightenment. To "Follow the yellow brick road" serves as Dorothy's mantra on her journey. Dorothy's return home-her awakening-symbolizes her enlightenment.
In Spiritual Journeys Along the Yellow Brick Road, Darren John Main suggests that The Wizard of Oz contains a timeless truth that transcends culture. Dorothy's journey is the sort of archetypal pilgrimage found across all religions. Revealing a distrust of organized religion, Main suggests that the wizard represents Dorothy's religion.

To Main, the purpose of following the yellow brick road is to find one's own spiritual path-and the journey is the destination. Dorothy represents the soul and her ruby slippers represent our "spiritual inheritance," a gift that each soul is given. The Good Witch of the North provides Dorothy with guidance but allows her to make her own discoveries.

To make this journey, Dorothy needs to draw on her intellect (represented by the Scarecrow), her love (represented by the Tin Man) and her courage (represented by the Cowardly Lion).
Jesse Stewart makes a similar argument, suggesting that The Wizard of Oz serves as "a map for the modern spiritual journey." Dorothy is an orphan and longs for her true home. In a sense, argues Stewart, we all experience this "longing of life" - we are all spiritual orphans searching for our true home. Toto is Dorothy's dearest companion, so when Almira Gulch threatens to take Toto away, Dorothy experiences a crisis that sets her off on her journey. She gets caught in a tornado that takes her from her outer world (Kansas) to her inner world (Oz).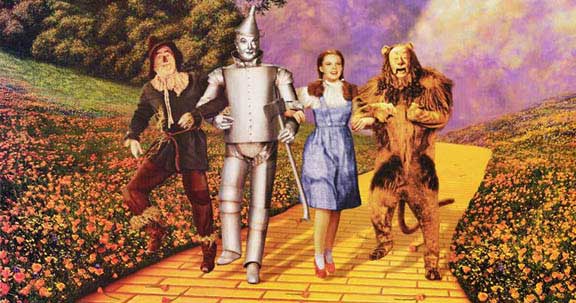 It is interesting to note that most of the recent books emphasize Dorothy's success in completing her spiritual journey, but one of the first analysts to look at The Wizard of Oz from a spiritual perspective saw it as a critique of organized religion. In Waiting for Godoz: A Post-Nasal Deconstruction of The Wizard of Oz, David Downing notes that like many people, Dorothy is dissatisfied with her life and longs for something more.

Downing suggests that her desire to find something better "over the rainbow" is the sort of escapism that organized religion indulges. But Dorothy soon finds that that her fantasy world, Oz, is even more flawed than the real world. She sets off on a "grail-like quest" with companions, all of whom have a similar sort of spiritual emptiness. They go to meet the Wizard in a cathedral-like setting, but they discover that his image is an illusion. Downing asserts,
"The implication is that the religious quest
fulfills psychological needs regardless of its actual truth."


Reference / Images Credits:Turn Me On, Dead Man , Photo Bucket , DamecarcAss , San Francisco Sentinel , Star Pulse , Luana Krause ,Reverse Spins